~Shallom~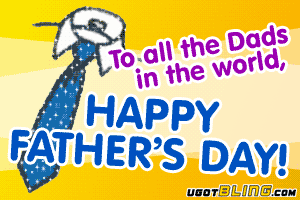 happy blessed Sunday for those who read my entry today and happy fathers day for whom already be a father. this entry special for my dad. :-) actually i was here with my dad, but i just don't know how to express my thankful and how grateful i am to have him as my dad. i don't even can wish him. it seems my mouth been lock up. i don't know why. so, i made this entry for my father. i know, someday he will read this. :-)
i start with ~
thank you dad for,
taking care of me until ur little girl already grown up and be like what u wish for,
non-stop and never get bored giving ur repeated advice day by day,
being there every moments in my life no matter in sadness or happiness,
holding my hand every time i was fallen and u raised me up with ur word that no one could ever gave me,
protecting me from being hurt,
worrying about me even i'm already big enough to take care of my self,
thats the sweet part because i'm still ur little girl in ur eyes.
and
im so sorry for every single thing that i did which hurt u so much.
i know it's really hard to raising me since i'm could become annoying sometime with a lot of stuff i talked about with, even i can see it through ur eyes how bored u r listening to me but u still be my listener. i know sometimes i could become so stubborn until we argued about it, but the next day u still can smiling toward me. i know sometimes i hurt u with my words but u still can forgive me and act like nothing happen before. how strong u r dad, nothing can replace u. i know im not the prefect daughter but i'm sure you the prefect dad for me. all i want you to know is, u r my guardian angel send from god to guide me.
i don't know whether this consider a poem or what...since this is what came from my heart... :-)
yeah!! i love you dad :-)
with love Joanne